An exclusive furniture selection for your dream property at an affordable price will complement your overseas property purchase experience. Generally, finding the right furniture in a different country is one of the difficult processes for foreigners. According to the type of your property and your style, Trabzon Homes helps you to find the best furniture that suits your dream place and your wishes.
What Does "Furniture Shopping Tour" Mean?
As one of the after-sales services of Trabzon Homes, a furniture shopping tour guaranteed that you are at the right address where you are buying the best furniture from the right furniture company.
The aim of Trabzon Homes' furniture tour is to help you a complete experience for all furniture, white goods, and kitchen appliances with the guidance of our experienced team during the shopping.
How Does a Personalized Furniture Tour Progress with Trabzon Homes?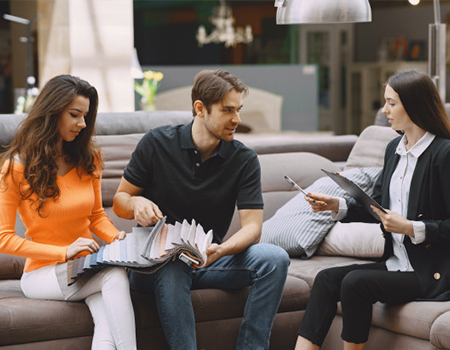 Trabzon Homes works together with many quality and trusty furniture companies in its service areas of practice. Everything starts with determining the furniture that you need according to your property. Then, we look up all catalogs and websites to choose the best suitable stores by considering your favorite furniture style and curiosity. After that, we take you to exclusive stores where our company and customers are very welcomed. During the tour, we guide you through purchasing kitchen appliances, electrical appliances, white goods, living room, bedroom and dining room furniture, decoration materials, sitting groups, beds, sofas, home accessories, and lighting fixtures that aligned with your taste and the budget. Furthermore, we do not get paid for these organizations; the tours that will give you the first overview of the interior of your dream home, are part of our free after-sales services.
Our team is with you also about the delivery of your new furniture. Besides, in the event you are not at home when comes time to deliver, we will there for you. With the support of the after-sales service of Trabzon Homes, you can decorate your home by saving your time and money. Trabzon Homes is proud to offer the furniture tour service guaranteed quality and focused on the 100% happiness of customers with its experienced and knowledgeable team.
Please contact us if you want to find the right furniture for your home in a simple way with a professional team.
FAQ
Q: Which furniture and white goods brands do Trabzon Homes work with?
A: Depending on our service area of practice, we cooperate with many furniture companies based in several locations.
Q: Should I pay any cost for those furniture tours?
A: No, we do not get paid for this service.
Q: When will be delivered my products by the furniture company?
A: Delivering periods vary changeable depending on the products you buy. If your order is in the stocks, the company will deliver your order within 3 days generally. If your product is not in the stocks, the store will order them from the factory and notify you about the situation and delivery date.
Q: Is there any insurance for my furniture and white goods?
A: Yes, the insurance companies offer packages that cover your furniture and products from any damage by earthquake, theft, fire, etc. Read detailed information about Property Insurance.
Q: Should I pay extra cost to get guarantee my products?
A: No. When you buy products from any company, they give limited-time guarantees for them. The guaranteed periods are changeable depending on the products. For instance, washing machines and dishwashers have a standard guarantee of 3 years generally; mattress has a guarantee of 10 years on the other hand. If you want to add extra guaranteed years to your products, you should pay a little extra.